Product Strategy Development
Feasibility study

A feasibility study is an evaluation and analysis of the potential of the proposed project which is based on extensive research to support the decision whether or not to create a new product. We aim to objectively and rationally uncover the strengths and weaknesses of an existing business to create desired product, opportunities and threats present in the environment, the resources required to carry through, and ultimately the prospects for success.

User behavior

User scenarios and personas help you explore your product by making more concrete the people who will use your design and the types of things they will do with it. A good use scenario does a number of things: Describes the user's goals and motivations; Describes a specific task or tasks that need to be accomplished; Describes some of the interaction, with enough detail to make it compelling, but not so much detail as to be overwhelming; Provides a shared understanding for everyone on your team about what a user might want to do and how they might do it; Helps you construct the sequence of events that are necessary to address in your product use-case.

Product Features

Product features are physical characteristics of a product sold and marketed by the company. It includes qualities or variables such as shapes, size colour weight, speed, durability, and maintainability. Marketers often draw distinction between product features from the product benefits. While features exist in the product by itself, benefits is the nature of value ta customer derives from the product because of features. While the features of a product remain same irrespective how or by whom the product is used. Benefits on the other hand are dependent on the product features as well as on what is needed and valued by the user of the product.

New Product Launch

The success of the next product launch could determine your company's survival. What are the keys to a successful launch? How can they be applied to your business If you live in the technology world you have probably seen big companies conducting big launches. These are companies with large budgets and tons of resources. As a startup you don't have that luxury and need to get as much out of your budget and resources as possible. We help to find a good way.

Product Lifecycle Management

Product Lifecycle Management, or PLM, is a driver of successful product development, and a strategic contributor to business value across the enterprise. With PLM we help product manufacturers manage complex, cross-functional processes, coordinate the effort of distributed teams to consistently and efficiently create the best possible products.
The product development pipeline is the future lifeblood of any company. Bringing the right new product or service to the market can lead to tremendous rewards for shareholders.
Unfortunately, just because you build it does not necessarily mean that users will come. The log of "developed, launched, and then failed" new products is filled with products that never should have been created. Such initiatives not only waste funds and human resources, but, far worse, often leave a void in the company's offering that result in a loss of momentum and share from which they are sometimes never able to recover. According to Roberto Verganti, the framework to depict types of product strategies is very simple – we look for changes in technology and meaning.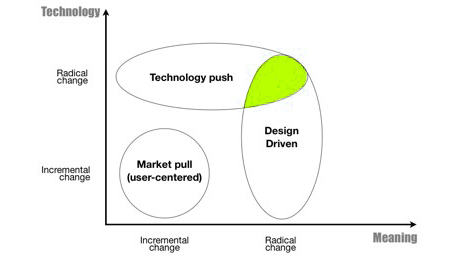 In our experience, the companies that are repeatedly the most successful in the marketplace with their new product developments are those that proactively adhere to do more than just answer the market needs. This could be changing the way how people use the product or service, creation of network externalities e.g. growing an ecosystem or centering user within the product meaning.